Royaloak Muar Malaysian Three Door Crockery Unit in Melamine Finish
SKU WC20191002-3
₹ 24,999

₹ 54,000

54%

You Save

₹ 29,001
No Cost EMI Starts from : ₹ 4,167
Product features
Engineered Wood
Melamine Finish
Ample Storage
Durable & Long Lasting
Malaysian Collection
Overview
Introducing the Royaloak Muar Malaysian Three Door Crockery Unit in Melamine Finish—an exquisite addition to the Malaysian Collection. Crafted with precision from high-quality Engineered Wood, this crockery unit boasts a stunning Melamine Finish, adding a touch of sophistication to any dining space. The three-door design not only enhances its visual appeal but also provides ample storage, allowing you to showcase and organize your fine china and dinnerware effortlessly. Built for durability and longevity, this crockery unit is a testament to meticulous craftsmanship, making it a standout piece in the Malaysian Collection. Elevate your dining experience with the Royaloak Muar Crockery Unit, where style meets functionality seamlessly. Buy wooden crockery almirahs from Royaloak today, and enjoy the benefits of owning international furniture from India's no.1 furniture brand. Malaysia, a culture-rich country, is popular for its high fashion and abundant resources. Due to its balanced climate, the wood from Malaysia stands a notch above the rest. Royaloak brings you most-modern compact designs that are functionally brilliant, aesthetically superior and will complement contemporary interiors.
Store View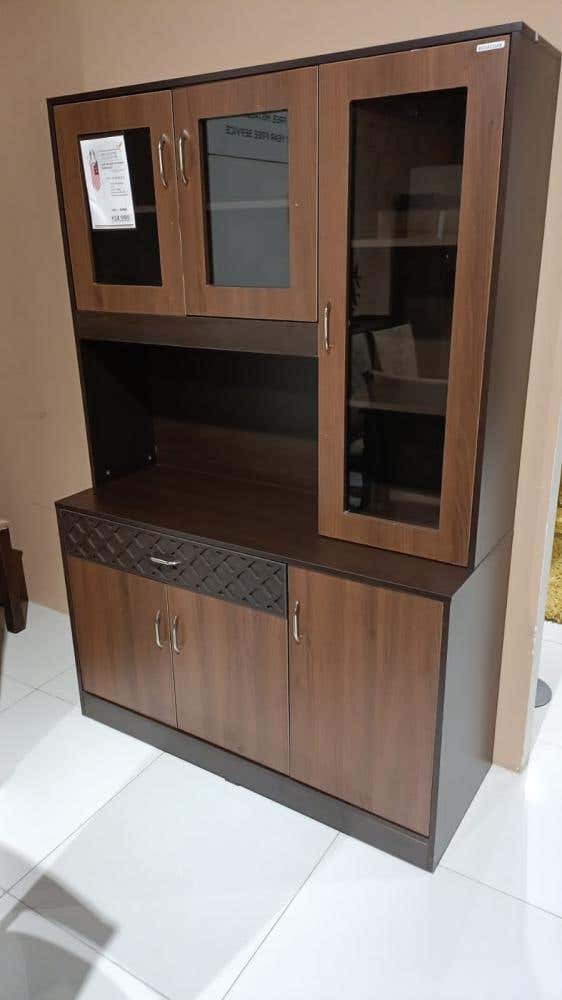 Dimensions Length: 47.2 x Width: 17.7 x Height: 70.8 Inches
Warranty 12 Months
Assembly Details Installation provided by Royaloak
Package Details 1 Three Door Crockery Unit
Material Engineered Wood
Review
Bommareddy Narasimha Reddy 25/02/2022
Very Nice
Very nice piece of furniture. Quite Spacious and looks Perfect!
Satisha. B. S 23/02/2022
Good product
Very Nice! The Product quality is good.
Goutam 20/02/2022
Great deisgn
Good product. The design of the product is great. It has enough space to accomodate everything with ease. Thanks!
Goutam 18/02/2022
Good
Good one. I am so happy to receive this on time. Superb experience ever! So happy to shop from WoodenStreet!
Goutam 16/02/2022
Loved it
No issues. I loved the wood finish!
Ashish Sashi Kumar 14/02/2022
Good
The product was delivered on time. No issues.
Satisha. B. S 12/02/2022
nice
The Crockery Almirah was delivered on time and as expected. Great delivery.
Vanita Kaushal 10/02/2022
Superb
Superb quality of crockery unit that I have ever bought. Thanks!
Abhijnan Dam 08/02/2022
On time
I ordered and recieved the crockery cabinet on time. Thank you WoodenStreet.
Abhijnan Dam 06/02/2022
Thanks
Thanks for the crockery unit.
Meet Sharma 04/02/2022
Nice
Very good crockery unit