Royaloak Penang Malaysia Wooden 4 Seater Dining Table Set
SKU DT417WL-4
₹ 20,000

₹ 60,000

67%

You Save

₹ 40,000
No Cost EMI Starts from : ₹ 3,333
Product features
Veneer Top Table
Solid Wood
Cushioned Seats
Tapered Design Legs
Malaysian Collection
Overview
Royaloak Penang Malaysia Wooden 4 Seater Dining Table Set is a beautiful and sturdy dining set that is perfect for small families or intimate gatherings. This designer dining set includes a dining table and four chairs. The modern dining table is made from solid wood, ensuring that it is strong and sturdy enough to withstand daily use. The veneer-top table adds an element of sophistication to the dining set, making it a great addition to any dining space. The tapered design legs of the table provide a modern and stylish look, adding to the overall aesthetic of the dining set. The chairs are designed with cushioned seats, providing a soft and comfortable seating experience. The solid wood construction of the chairs ensures that they are durable and long-lasting. The combination of the solid wood dining table and cushioned chairs makes this dining set perfect for enjoying family meals or entertaining guests. Royaloak Penang Malaysia Wooden 4 Seat Dining Table Set is part of the Malaysian Collection, which is known for its high-quality craftsmanship and attention to detail. This dining set with its beautiful design and durable construction, is a great addition to any dining space. Buy four seater designer wooden dining sets from Royaloak today, and enjoy the benefits of owning international furniture from India's no.1 furniture brand. Malaysia, a culture-rich country, is popular for its high fashion and abundant resources. Due to its balanced climate, the wood from Malaysia stands a notch above the rest. Royaloak brings you most-modern compact designs that are functionally brilliant, aesthetically superior and will complement contemporary interiors.
Store View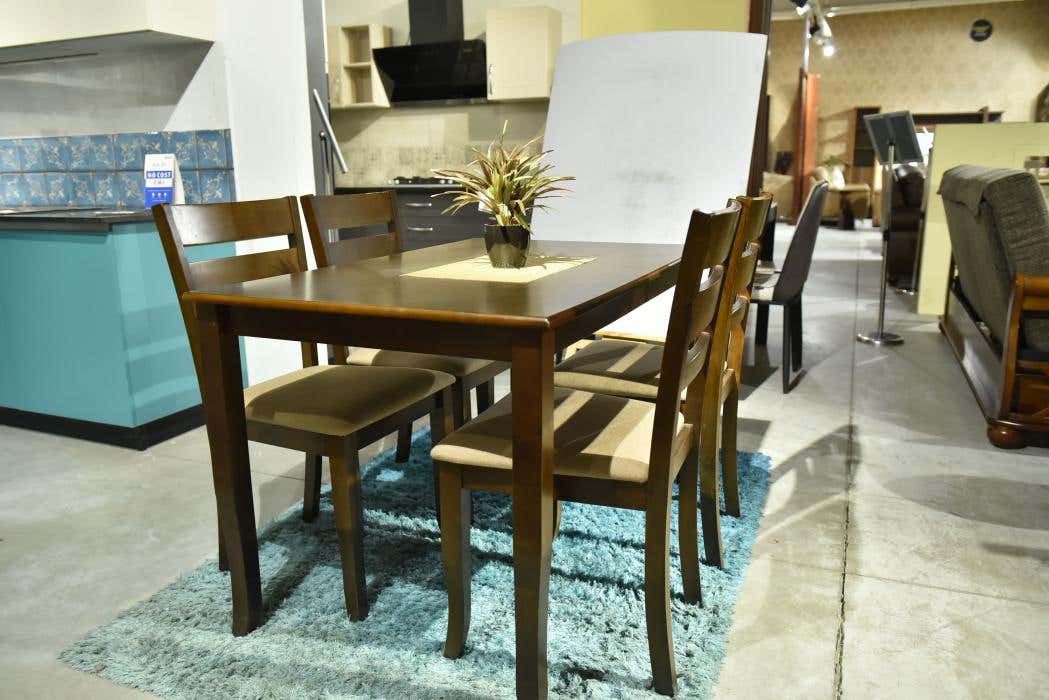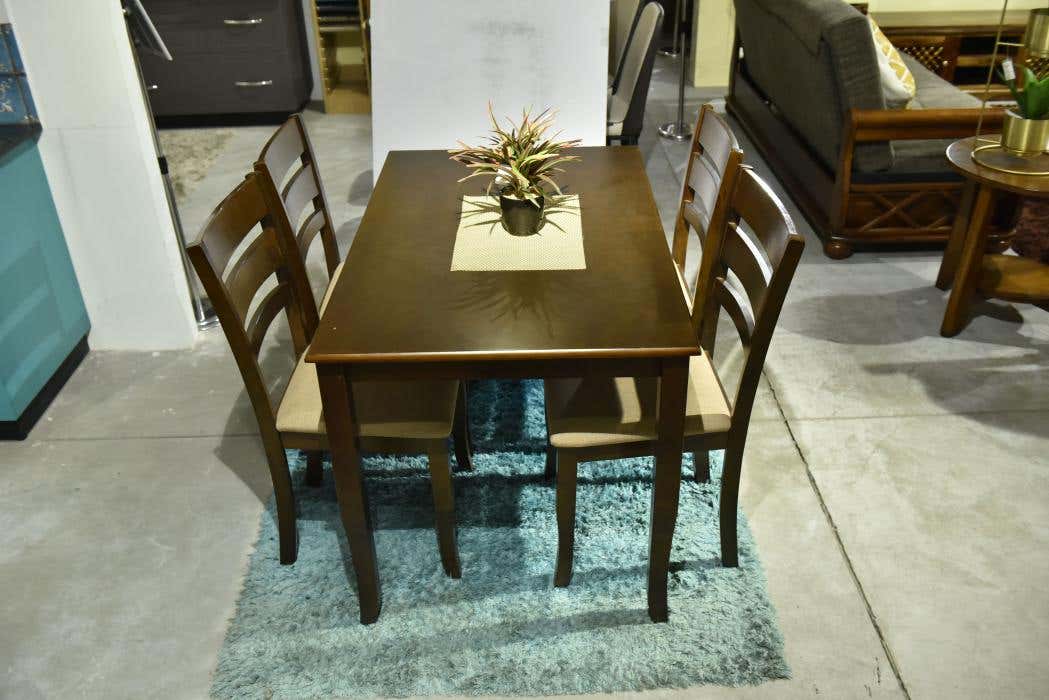 This 4 Seater Dining Table Set With 4 Chairs is made up of solid wood and its ingenious design will refreshen your interiors with its plush look & elegant finish and compliments any existing decor. This Accentuate Stiff 4 seater dining table set is the one-stop product to fulfill all your living room needs and requirements while giving a gracious living Style. Its evergreen design makes it a perfect fit for a variety of interiors and lends an authentic makeover to your living space.
This four-seater dining table set makes for a great addition to your home. This set has an extremely modern and contemporary look that helps you set up a stylish dining space in your home.
These 4 Seater dining table sets are a great addition to any home. With Luxury seats and a beautifully finished wood frame, you can't go wrong with these dining table sets. These simple yet elegant dining table sets are sure to impress.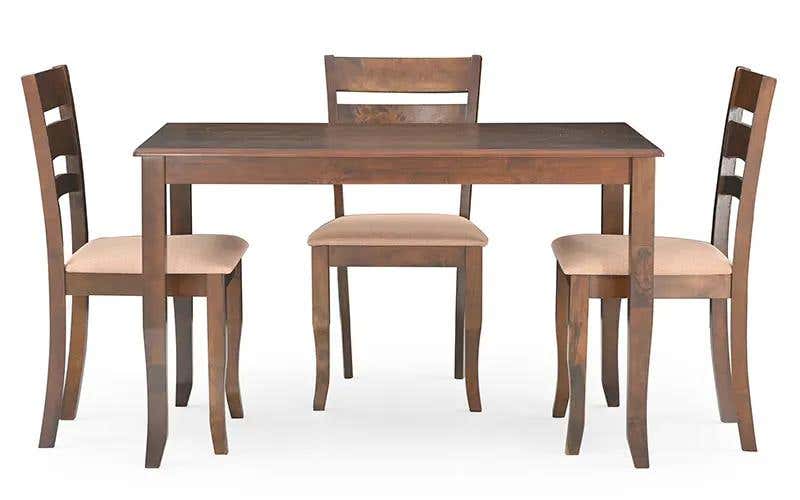 INGENIOUS DESIGN
The elegant and vintage design makes it well match with many home decorations.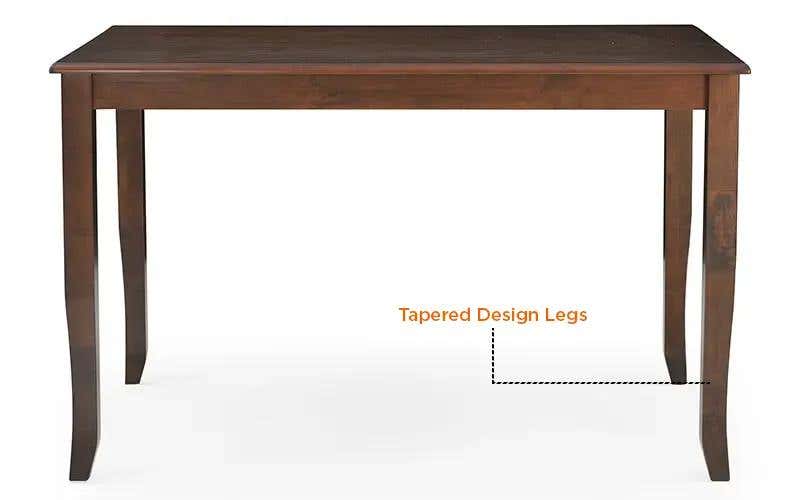 STURDY & DURABLE
The Table is made up of Solid Wood that makes it Durable and ensures Stability & Durability.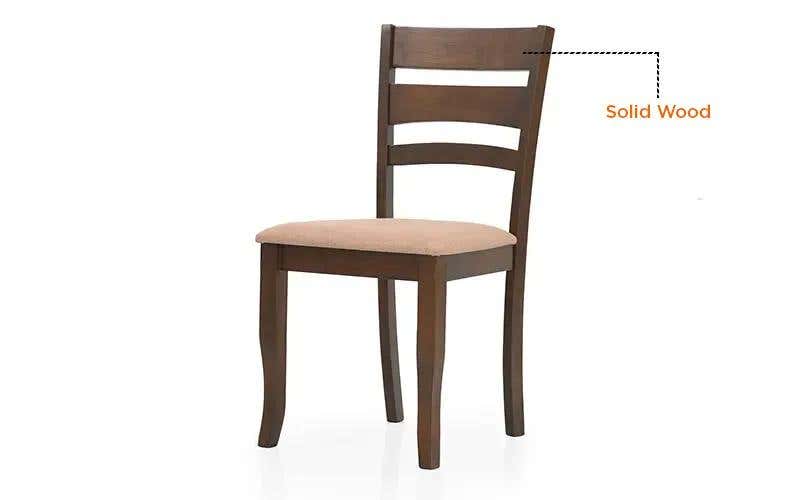 MULTI-PURPOSE
This multipurpose Dining Table can be used for Coffee Table, Breakfast Table, Kids Table, Utility Table.
Dimensions Table: Length-47 X Width-29 X Height-29 InchesChair: Length-17.5 X Width-17 X Height-35 Inches
Warranty 12 Months
Assembly Details Installation provided by Royaloak
Package Details 1 Table & 4 Chairs
Material Solid Wood
Review
Vamsi Krishna Chatrathi 02/04/2022
Super!
Worth every penny
Ruth Paul 02/04/2022
Dining table looks g.…
Dining table looks good.
Sailaja 31/03/2022
Lovely option the range
It is a very good option in the price range after surfing option in the market.The quality of wood is good and heavy.The table and chair are stable and perfect match in our hall.Would update the product review after it is used for some months as I received the product 2 days back.Since it os a gift to my bro he was very happy with the quality of product.Definately recommended.
DK BATRA 31/03/2022
Nice.…
Nice
Gowrav MJ 29/03/2022
Beautiful product
Beautiful and solid with comfortable cushion seats.Nice finishingLooking greatTimely diliverdI am totally satisfied with the seller who is in approach
Sreedhar kasi 27/03/2022
Good
Good product only material used could be better..
Mithun Banerjee 27/03/2022
Thanks for the great.…
Thanks for the great product!
SUMIT VERMA 25/03/2022
Recommended
Yes, I recommend this product
GANGAREDDY LINGAMPALLY 25/03/2022
Perfect functional p.…
Perfect functional piece. Thank you for safe delivery.
Binu Balakrishnan 23/03/2022
Value for money
Worth the money
Vishwajit Vivek Khopade 23/03/2022
Good quality
Quality Product from Royaloak
Satyanarayana Uppada 23/03/2022
Nice Product.…
Nice Product
Shekar 23/03/2022
Great service and gr.…
Great service and great quality of product.
rama chandra 20/03/2022
Perfect.. thank you .…
Perfect.. thank you for the timely delivery of this masterpiece.
Sameer Pasha 03/01/2022
Worth every penny
Excellent product. 5 star
bharadwaj 03/01/2022
As expected
just fine
R n swain 03/01/2022
Thanks.…
Thanks
HARSHIT GARG 01/01/2022
Fabulous!
moneys worth
Akshara Arvind 01/01/2022
premium-quality prod.…
premium-quality product. Thanks