Furniture has been an important part of human families and civilizations for many years and its importance will probably never be reduced because it performs some essential functions inside the home. It has aesthetic value too, and many cultures have designed furniture in their own manner which has then become famous due to cross-cultural recognition and presently globalisation. Since all the previous furniture was mostly handmade, it had a huge variety of unique designs, some of which were more aesthetic than others. This is in stark contrast to modern furniture design, which mostly looks the same at least when it comes to proportion and size. However, if you try to compare them based on their capabilities, you will notice that modern furniture will fare better. It also has fans of its unique and minimal aesthetic, which we will talk about later. In this blog, we shall share with you some top reasons why you should go for modern furniture.
The Royaloak luke computer table is one good example of modern furniture. It is made of a minimalistic design but has storage built for collectables, books and more. It is made of HDF engineered wood with a melamine finish that makes for an attractive look. It is essentially a 2 in 1 multifunctional desk that is built to last a long time, and it already comes with a 12-month warranty. Modern furniture such as this can be used as a replacement for old office tables, as they have better properties when it comes to environmental resistance and looks. However, as you will see later in this blog, there are many other reasons that they may be preferred to traditional furniture in a home. However, traditional furniture still has its place, as its aesthetics and design still remain an interesting thing to showcase in a home.
The 5 reasons you should buy modern furniture
Following are the top 5 reasons you may want to buy a modern furniture item like the L shape sofa set if you are going for a furniture shopping trip anytime soon.
They last longer
The facts on the matter are very clear. Unless you use the furniture you buy in a way that it is not intended to, modern furniture will likely last longer than its traditional counterparts. Much of this can be attributed to the material with which modern furniture is made. Apart from special types of fabric, glass and metal, the main material that has impacted the durability of modern furniture like a round dining table is engineered wood. This material contains changes in its structural level that makes it stronger, more flexible and more durable against both short term and long term proponents of furniture failure.
They can be multifunctional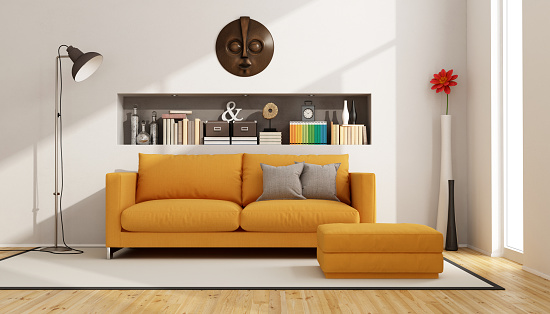 Modern furniture has evolved to incorporate solutions to the real estate problem which is rampant in cities of the present. Space conservation and multifunctionality have been made a part of the ethos in the manufacturing process. Multifunctionality is incorporated with a no-compromise attitude with respect to durability. One example of this is the sofa cum bed. This sofa set design can transform itself into a bed within minutes, and offers the same amount of comfort as a normal bed would. The cushions of such a sofa are often washable many times, increasing its popularity among the public.
They have their own aesthetic
Modern furniture appears different when you compare it to traditional furniture styles. It usually is highly minimalistic, focusing mostly on the functionality aspect. However, the minimalist design itself has become a trend. Sometimes it presents itself with a unique design, and the freeform glass dining table is one example of the modern furniture aesthetic that has become popular in both home and office areas. A comparison with traditional aesthetics cannot be made in terms of which one is actually better because it is a subjective matter.
They come with the latest design
The advantage of purchasing modern furniture be it a simple dining table 4 seater is that it will have incorporated the latest techniques in manufacturing, design and any other domain in which such change is possible. Sticking to the olden design is not good when making any new purchases and the same is true within the furniture market. Of course, the new variants might be confusing to many who don't do enough research on them, but one can still agree that they are better in many aspects simply by the logic presented above.
They are modular
The last interesting aspect of modern furniture is that it is mostly made of a modular design, which means that it can be easily scaled up if the homeowner wants. This is also true because near-identical pieces of furniture manufacture are possible because of machine-led manufacture. It can be a helpful factor if you want a high degree of symmetry, synchronicity and similarity in your home furniture design. Although not much important in personal spaces, it has been extensively helpful in office spaces, and one can see this through various examples like the computer chair, office cabinet or desks
Conclusion
Now that you know what are the advantages of using modern furniture, you may want your next furniture purchase to be of a modern design. However, looks aren't enough while you are going for a shopping trip, and you should also pick a reputed furniture store to choose your furniture from. RoyalOak is one such reputed store that has consistently received good reviews on the furniture products it sells. We sell living room, bedroom, dining room, and outdoor furniture, among other things. We also sell home furnishings. We have some furniture from outside the country, which may be found in our American, European, Middle Eastern, and East Asian furniture categories. We also provide free delivery and installation on any furniture items purchased from our store as part of our customer policy.