In every home, the kitchen is an important space where people prepare meals and food for the family. Therefore, a kitchen is an integral part of any home where happiness is prepared and served. Storage cabinets are an important part of the kitchen design that is designed in a way to give the flexibility to store kitchen stuff in an organized way. For a flawless kitchen design, you need to have the proper kitchen cabinets. In this context, we will give a comprehensive knowledge of the modern kitchen cabinet designs and how to make the most use of them.
Are you looking for a revamp of furniture for your home? Do you want to make your kitchen home space more beautiful? Then you should indulge in fixating a single design and texture for your kitchen design. We have led before a complete array of kitchen cabinet designs that will match the different interior decor of your kitchen home. This blog will discuss the different modern kitchen cabinets so that you can have a complete idea of the modern kitchen designs when you are revamping your kitchen.
Glossy Kitchen Cabinet Designs For Aesthetics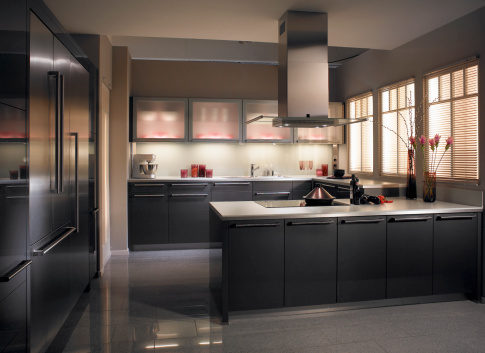 Are you confused about adding that additional glow to your kitchen interiors? Have you ever thought of adding a glossy surface to your modular kitchen? If not then you should proceed to plan a glossy kitchen cabinet surface that will not only steal the show but also brighten the entire kitchen room. It will look stunning and elegant when paired with deep dramatic colours such as royal blue or red. The complete modular kitchen is bound to render a pleasant appeal to the kitchen space.
Steel Kitchen Cabinets that Mesmerize
Metallic finishes have always given a contemporary appearance. Owing to their sleek and chic appeal, steel kitchen cabinets have become popular nowadays in urban homes. They make your kitchen space more eye-catching and appealing. Though the theme does not match well with colours, a bright splash of colour with metal silver kitchen cabinets are a sophisticated bold statement. This type of kitchen cabinet comes on a cost-effective budget and adds that contemporary touch to the kitchen space. Significantly, glossy black kitchen cabinets in a modern open kitchen is a great choice.
Metallic Kitchen Cabinets That Suits Your Contemporary Kitchen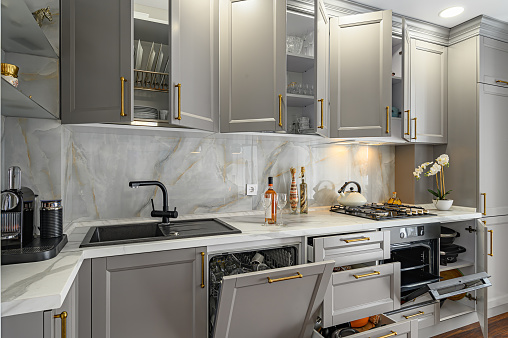 Metallic kitchen cabinet designs are gaining popularity in the last few years. As more people are opting for modern homes, they are selecting metallic interiors to match their home space. Similarly, metallic cabinets provide a wave of style and sophistication to your kitchen without giving much effort to the design ideas. Willing to create a statement with your kitchen cabinets? Then you can select the metallic cabinets for keeping kitchen stuff, crockeries and other accessories.
Create Innovation With Mixed Materials
There are times when you can stir up certain things by adding materials as well as textures to create an effective kitchen space. One can add blush-toned backsplashes for a close-to-nature look comprising warm hues and a rustic approach. When it comes to kitchen furniture there are a number of ways that renders your kitchen a chic and contemporary appeal. One can pair materials like adding wood veneer cabinets with metallic kitchen islands. Similarly, there are several ways through which one can use distinct textures of wood to render an elegant texture. White wooden cabinets match well with stainless steel cabinets and give your kitchen a chic appeal. In this way, a combination of two or more different materials can necessarily be the game-changer for your kitchen space. Different wood materials have distinct textures which will give an effervescent appearance to your kitchen.
Ample Floor Space With Floating Cabinets
The floating kitchen cabinets are one of the best ways to install them in your kitchen if you have a small kitchen space. Different kitchen designs lay stress on the floating cabinets due to the reason that they leave enough floor space for other furniture or accessories. It is time to flaunt the hardwood floors and open up space effortlessly. This type of kitchen design will not give any chance to accumulate the kitchen crumbs. Additionally, with the modern floating kitchen cabinets, one can make effective usage of small spaces.
Wooden Kitchen Furniture
Wood is an expensive material however owing to its durability and reliability. In many modern homes, wood is used as a common material for cabinets of modular kitchen designs. They continue to go as per the charm as a result of their shine, timeless features and durability. They are easier to handle and can be run on low maintenance. Thus, within a budget, you can get good quality wooden cabinets that provide a refined look to your kitchen interior space.
Kitchen Wall Cabinets Are Awesome
Is it the lack of space that is deterring you from installing kitchen cabinet designs? Sometimes the least floor space limits the space for kitchen furniture. It's time to consider wall kitchen cabinets. Besides freeing up the floor space, it will make available the in-between walls for decorative purposes. The wall cabinets give ample space for storing kitchen stuff and accessories making it easy to open and access.
Corner Cabinets For A Decluttered Space
As more people are getting engaged in transferable jobs, they are getting adapted to apartment-style living. This has led them to face many challenges and one of such is struggling to find storage for storing the use-for-later items which is a common aspect of Indian kitchens. The kitchen space has several corner spaces which remain unused. These nook and corner spaces can be used for additional kitchen cabinets serving your extra storage requisites. In this way, you can declutter your kitchen space easily.
Final Thoughts
Looking for top modern kitchen cabinet design ideas? Royaloak brings in a complete collection of kitchen cabinet designs for various types of kitchen interiors. Royaloak is one of the leading furniture retailing brands that have established their authorised leadership in the global furniture market niche. They manufacture different furniture pieces like sofa sets, bedroom furniture, dining table, work from home table and chairs, study table, bookshelf design, recliners, outdoor furniture, dresser, wardrobes and many more. Connect with expert furniture designers for the best kitchen furniture design ideas.