Furniture has been important for centuries because it has served an essential purpose in the daily lives of human beings, and it will probably never lose its value. However, human society as a whole has undergone and will change in time. To compensate for such changes, furniture design and manufacture has also had to change over the years. But recently the effect of change has been the most profound and can be witnessed even by commoners. Modern furniture lasts longer, is more aesthetically pleasing, and allows for useful furniture designs to come out in the market. However, for people who may be unfamiliar with the materials used in such design, they can be hard to recognise. This is why, in this blog, we will be sharing with you knowledge about how the material, known as engineered wood used in newer furniture is manufactured.
Modern furniture may use engineered furniture in various ways. The RoyalOak Lara Fabric Rocker Standard Recliner Chair for example is a furniture item that has an engineered wood skeleton inside it that is covered with a fabric exterior. It is highly durable because of such features, and the cushions that are filled with pocket springs make the recliner irresistible to relax on. However, this could not have been possible without the properties of engineered wood inside it. Engineered wood has found applications on various furniture items these days, including dining furniture, living room furniture and even in office tables and chairs. In this blog, we shall introduce you to different types of engineered wood and their properties and will go over in brief how they are made.
General Information about the Different Types Of Engineered Wood
Following are the important types of engineered wood because they are the most popular in the market. After reading this, you will be able to decide whether they are the right pick for whatever furniture item whether it be an L shape sofa set or an outdoor swing.
Plywood
Plywood is our first category of engineered wood, and it is pretty easy to recognise. It is made of many layers of wood layers glued over one another. This gives it high compression strength, and it is one of the most moisture resistant wood, along with being heat resistant. Each adjacent layer also has its wood grain rotated at 90 degrees, which decreases the risk of splitting. However, you must be wary of plywood lookalikes that do not possess the same strength or heat resistance in the market. Plywood is used in many applications, from the common round dining table to many decor items.
Particle boards
Particle boards are the second type of engineered wood you can find on the market. It is most commonly used in kitchen tops. It is made of compressing small wooden chips, and the chips in the surface layer are thinner than those in the middle layer, so the surface of this type of wood can be more smooth. The main advantage of this type of wood is that it can be manufactured into any shape, but it has lesser strength compared to other types of wood mentioned in this blog.
Medium density fibreboard(MDF)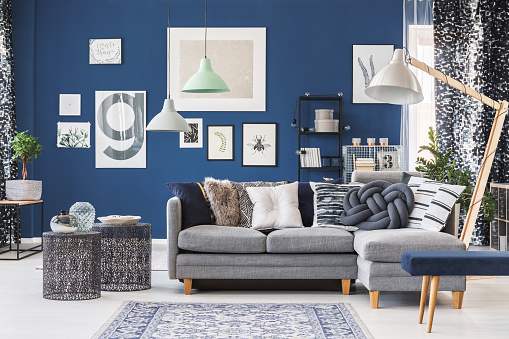 Although technically still a type of particle board, it has a slightly different manufacturing process associated with it. First, natural hardwood and softwood are ground together, and then they are put into a wax binding and through heat and pressure, they are transformed into MDF panels. MDF is most suitable for indoor sofa set design because its strength combined with its aesthetics make it very attractive indoors. MDF is not susceptible to splintering and is very consistent in its make-up. It has, however, a higher weight per inch when compared to other types of engineered wood mentioned here.
Laminated veneer(LVL)
A laminate veneer is produced by bonding thin wood veneers together. It is a member of the structural composite lumber(SCL) family of engineered wood and is known by the acronym LVL. All wooden grains are arranged parallelly in a longitudinal direction, which results in the type of wood having some better mechanical properties. It is also one of the most likely types of wood that is available in any length, depth or thickness in the market. Many parts of furniture items like the aesthetic glass dining table may use this type of engineered wood. This may include the headers, beams, joists, circle boards, studs and columns of such furniture items.
Cross-laminated wood
Cross-laminated wood is made of multi-layered lumber, with each layer being transversely placed to its next. This gives a higher level of rigidity and strength to the furniture item. It is used for all large assemblies like parts of floors, walls or roofs. It has an interesting advantage to it - it can be built faster than any other type of engineered wood mentioned above, and is thus a choice for all types of modular furniture items.
Engineered wood is commonly used in most modern furniture items like the modular study table and ergonomic computer chair among other items.
Conclusion
Now that you know what engineered wood is and how it is made, you might want all your next furniture purchases to have engineered wood in them. However, you should only select a good store that has enough varieties of say, the dining table 4 seater designs that use the engineered wood because then you will have more aesthetic options to choose from. RoyalOak is one such Indian store that has made a name for variety. We sell all kinds of furniture including living room, bedroom, dining and outdoor furniture. We also sell decor items. We have some furniture that has been sourced outside the country and these are available under our American, European, Middle Eastern and East Asian furniture collections. We also give out free delivery and installation for every furniture item you order from our store because it is our customer policy to do so.