Furniture has been an important commodity for many years in human civilization, as it satisfies some important functions in a home. The arrangement of the furniture is called interior design, and this has many variants. Even the same arrangement of furniture items can look and feel different depending on the type of furniture you place in such order. There are many types of furniture if you take into account all the individual differences that can be present between similar ones, but today we will focus on the divide between traditional and modern furniture. Traditional furniture is any furniture that uses the old manufacturing processes like handcrafting and employs the traditional aesthetic. Modern furniture, on the other hand, has a noticeably different design and is often manufactured using machines. There are many other differences too, which we will be discussing in this blog and then we will focus on interior design using such furniture.
There are many differences between traditional and modern furniture design as we shall point out to you in this blog by offering various viewpoints on the subject. However, you can also choose to have both in your home, depending on your subjective taste. This is not always possible but can be smartly chosen in various circumstances. A modern furniture item can be blended with a traditional aesthetic if you want. For example, the Royaloak Ortho Bloomz Queen Size Mattress is an amazing mattress that can give excellent comfort to people who already have some sort of queen size or a king size bed within their home. This bed, however, can itself be of a traditional furniture design if you like such an aesthetic within your home. However, if you live in an urban area with less space, we recommend you switch to completely modern designs, as they are specifically made for such requirements.
The Differences Between Traditional and Modern Furniture
There are many differences you can see in interior design that, by virtue of the properties of furniture design, come into effect inside the home.
Single vs. Multifunctionality: office table and chair
The first stark difference you can find between traditional and modern furniture is in the capability of being multifunctional. Modern furniture like the queen size bed with hydraulic storage are better at such things than traditional furniture. This is mainly because of two reasons, material and design. They are designed to have multifunctionality within them. The material they are made from also differ in strength and grain structure, which means that they can have properties that natural wood can never have. Traditional furniture items almost exclusively use natural wood in most of their designs, and that can present a limitation within them. This is not to say that traditional furniture items are inferior, but modern furniture items are better suited to certain spaces like the office area, for example.
Durability: wooden sofa set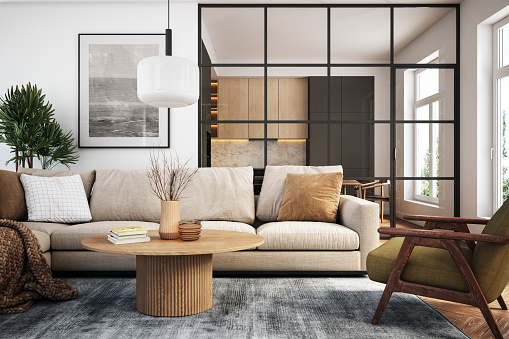 The durability of the furniture is different when modern furniture and traditional furniture are compared. Even if they appear the same, the traditional wooden sofa set will be weaker in the long run compared to its modern counterparts. This is because modern furniture items can sometimes come with a laminate cover that protects them from any external environmental damage. When it comes to other modern furniture items like the mattress we discussed above, they can be made of things like memory foam which last longer than traditional mattresses.
Differences in comfort: designer bed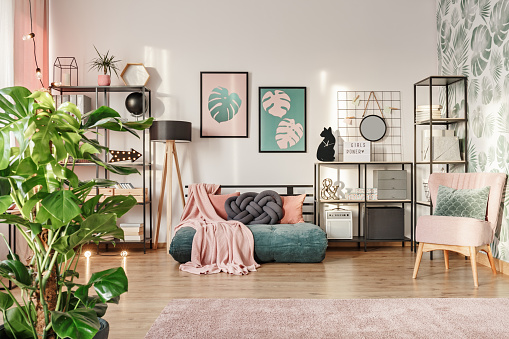 The third difference comes in the form of comfort. Here, the subjective taste of the homeowners begins to take effect on their judgments. This is because aesthetics can also play a role in deciding the comfort factor in interior design. However, when it comes to raw data, cushioning in modern furniture items like the recliner or the designer bed most likely are better because they incorporate any technological advancements in the design and manufacturing field. The comfort level furthermore does not decrease much with time as it might in some older designs that may have this type of flaw in them.
Minimalistic vs extravagant aesthetics
Traditional furniture has aesthetics that are quite different from modern furniture. This is not because modern furniture items cannot meet them, but they simply aim for a different kind of design. Moreover, because most modern furniture like office tables are manufactured using machines, minimalist design is what comes naturally in it. The handcrafted traditional furniture items naturally lean towards a more extravagant aesthetic. The aesthetics matter a lot in interior design, and we will leave it to your subjective taste to choose between a glass centre table or a wooden one for your living room.
Other differences
There are other minor differences when it comes to traditional and modern furniture items. Some modern furniture items can seem more expensive than traditional furniture. You will get traditional furniture more easily in your local stores, and if you want modern furniture you will have to go to larger stores. Traditional furniture is usually not modular, but to improve scalability and conserve space, modern furniture employs modularity in its design.
Conclusion
Now that you know the differences between traditional and modern furniture design, we hope that you choose your furniture with a little more insight than you usually do. However, no matter your reasons, you should always pick a store that has quality furniture, whether you are going for traditional or modern furniture items. RoyalOak is one such furniture store that sells in both online and offline environments. It is primarily of Indian origin, but also sells furniture that is sourced elsewhere. American, European, East Asian and Middle Eastern furniture is available in our stores. We also sell decor items. We do not charge for any delivery or installation services on any of the furniture products be it an L shape sofa or a mattress ordered through our online portal as part of our customer policy.